Established in 2005
Jared, Ardon and Larry Smith established Extreme Welding & Machine Services (EWMS) in 2005 in Ridgway, Illinois with basic welding shop equipment. Father Larry, a career welder since 1971, provided the experience and skills in the early days of the business. With son Jared's technical skills, as well as his welding acumen, EWMS began to grow serving the oil fields, coal mines and farmers in southern Illinois. Jared's wife, Ardon, a Certified Public Accountant, provided the leadership to navigate the financial responsibilities of a family-owned business.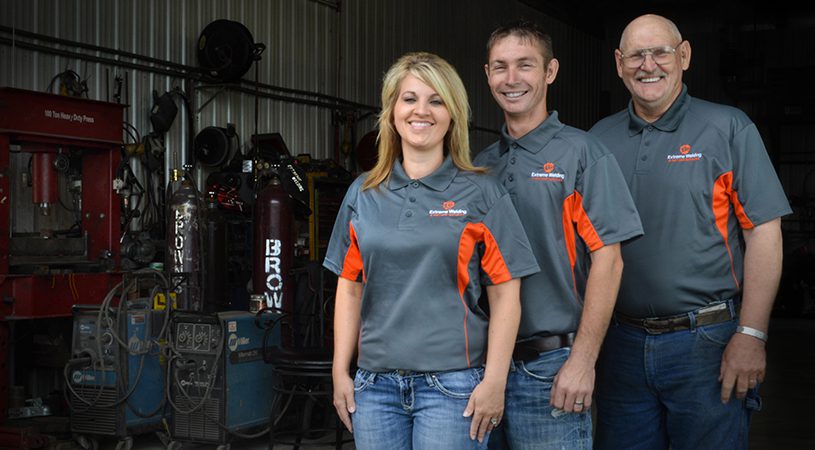 Clients began to appreciate the Smith family's work ethic, quality of work, safety record and "Golden Rule" philosophy. Requests for services in addition to welding and fabrication jobs increased, and EWMS began to offer hauling to mobilize equipment, crane lifting, earth moving, truck pressure washing and other support services. The EWMS team of certified welders and mechanics grew as well.
Extreme Welding & Machine Services now has two locations in Ridgway and Equality, Illinois and owns a fleet of five mechanics trucks, a Mack semi, two boom trucks, a pressure washing truck, dozers, a 35,000 lb. hydraulic lift and a crane capable of lifting 48,000 lbs. with 134 ft. reach.
The EWMS Custom Metal Fabrication Shop has a CNC & Plasma Torch machine, a Brake Press, MIG, TIG welding and line boring equipment, a roller machine for making tanks, a track press and a variety of related accessory tools to serve the needs of their clients.
EWMS has grown into a one-stop-service-shop with and includes the EWMS Mobile Welding Team for on-site heavy equipment repair. This means clients don't have to wait for sub-contractors to arrive on the job site.
SAFETY CERTIFICATION
Extreme Machine & Welding Services has an impeccable safety record. The safety of our employees is our first priority. We have a zero drug tolerance policy, and our employees follow strict PPE requirements. Supervisor papers for coal mines (underground & surface) are available upon request.
EMERGENCY SERVICES
Larry Smith: 618-534-8717
Jared Smith: 618-559-6608